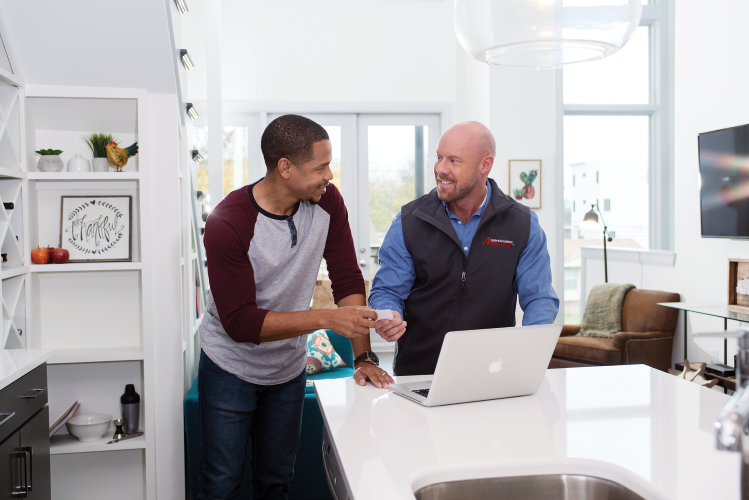 amn_dealer_at_kitchen_counter2c6f4b77073d629eabb1ff0300454ea0
If your home is freezing or steaming, call White Bear Heating!
In need of assistance from a local, reputable, HVAC contractor?
White Bear Heating & Cooling
Trust our committed HVAC techs for all repair, maintenance, and installation needs. We are equipped and readily available to respond to all service requests. Here at White Bear Heating & Cooling, it has been our pleasure to offer the highest level of home comfort for the White Bear Lake area and Surrounding Communities for over 40 years. We are a family owned business. Our foundation consists of efficient, reliable and cost-effective heating, air conditioning and indoor air quality products.
Regardless of the type of service that you need in your home or commercial building, our skilled HVAC technicians are up for the job. We are a locally owned and operated company known for quality work and punctual service. Some of the services that we provide include air conditioning repair and replacement, furnace repair and replacement, boiler repair and replacement, mini split repair and replacement, plus more.
Prompt response, professional installation, and a company with integrity. Thank you!

Linda Pham
July 13, 2023

Always same or next day service.

Todd Sherrett
May 17, 2023

Our regular HVAC provider told us our AC was shot, leaking oil, and expensive parts despite being just 10 years old and recommended we replace it. We were all… read more set to do it and on a hunch I called this company for a second opinion. They replaced one small part and told me the AC was in great working order with no visibler oil leak and there was no need to a new one in their opinion. Saved me thousands.

Lanny Smaagard
April 17, 2023

The AC compressor and air handler were completely replaced, in an expert and professional manner, for a very reasonable price. There were complexities to the work, as the air… read more handler and ductwork are in the attic. The work was done on time, all cleanup completed, and Richard fully inspected all work before it was considered complete. I have always been impressed with the level of work done by WB Heating & Cooling, and their professionalism, on both my AC and Boiler systems. I have total confidence in the repair and maintenance they have performed for me over the years.

mary w
April 17, 2023

Free Estimates for Equipment Replacement
Our Service Protection Plan
Tune Up Program for Heating & Cooling Equipment
Regularly scheduled maintenance can reduce breakdowns and is key to equipment longevity. We can perform your regular tune ups while saving you money when you sign up on our Service Protection Plan. Ask a White Bear Heating & Cooling technician or call our office for more information about becoming a Service Protection Partner. We will gladly go over the plan details and answer any questions you may have.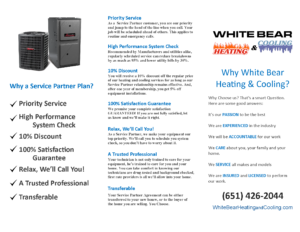 Service Areas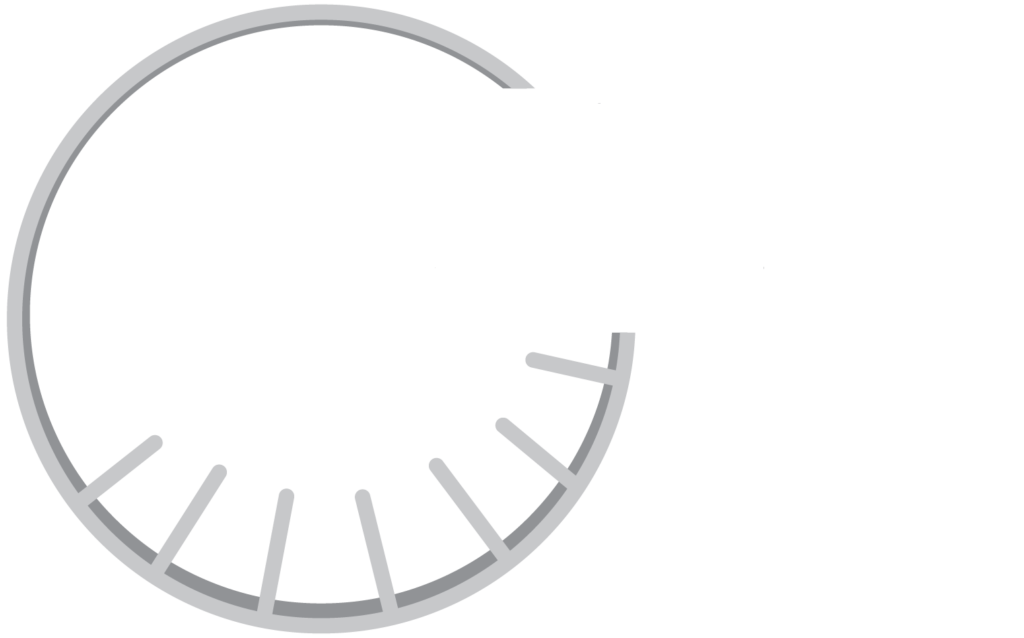 Do you have emergency heating or cooling problems that require immediate attention? Our reliable technicians are on-call 24/7 for repair service. Call 651-426-2044.