Thermostats
Thermostats can improve the indoor air quality in your home. We offer a wide range of thermostats including your traditional thermostats, programmable thermostats and cutting edge WiFi thermostats.
Smart thermostats offer a variety of features that will not only help keep your home comfortable, but can reduce heating and cooling costs. Smart thermostats let you control the heating and air conditioning in your home from an app, with your voice, or right on the thermostat.
From selecting a style of thermostat that best fits your needs, to professionally installing your new thermostat, White Bear Heating & Cooling technicians are knowledgeable and here to help.
The Honeywell Home T Series is a portfolio of non-connected and WiFi connected thermostats designed with contractors in mind. With simple functionality that's easy to use, and smart features that are easy to love, the T6 Pro Smart enables you to deliver in-demand connectivity without the complexity.
The Prestige® IAQ 2.0 Thermostat with RedLINK® is the right choice to satisfy your customers. The robust RedLINK® wireless capabilities will keep them coming back to your business for all their residential and light commercial HVAC needs.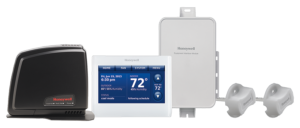 Manage your smart home comfort from anywhere with the WiFi 9000 Color Touchscreen Thermostat. Monitor and adjust your heating and cooling temperatures from a computer, smartphone, or tablet. Stay aware while away with system alerts via email or the Honeywell Home app.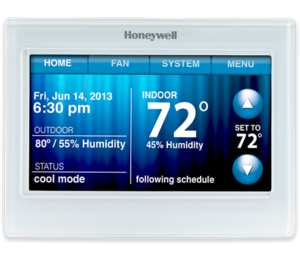 Do you need to replace a faulty thermostat? Are you looking to upgrade your thermostat? Call 651-426-2044 to schedule an appointment. We are happy to help and look forward to working with you.
White Bear Heating & Cooling is fully licensed, bonded and insured so you will have peace of mind when we install your new thermostat.